Aftermath Of The Rally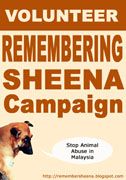 The Remembering Sheena Campaign Rally, held on 21st January 2006, was a success. Thanks to all who came down to lend their support. Big thanks especially to those who brought all those signed petitions, your hard work might go a long way to changing the laws in Malaysia.
Thanks to all volunteers. For those of you who want to get more involved, or have ideas and plans for this campaign, do email us (see link on the right)!
Special thank you's to
Susan Lankaster
, Miss Malaysia/World
Gloria Ting
, REDfm's
Ida Mariana
and 8TV's
Adam Carruthers
. Also, thank you to the
Malaysian Kennel Association
for the wonderful show they put on with their lovely dogs! Thanks also to all listed in Shoba's posts below!!!
We're also very grateful to our
sponsors
for the drinks, gifts, and a big thank you to the
SPCA
, especially
Sabrina
, for your support and loyal dedication. Thanks also to the volunteers who sent us the pictures above! Good one, guys!
Lastly, thanks to
Shoba
for all her hard work and dedication for the rally!! You go, girl!
And as Shoba mentioned, we will be having a workshop soon, see the links on the left for details! Do sign up with us via email! Thanks!